Could it really have ended in any other manner? Just over two months after a deflated Lionel Messi walked away from the Argentina national team, he was back with the captain's armband in Mendoza to see his nation past dogged Uruguay. His goal was worth three invaluable World Cup qualifying points, and served as a statement of intent after the toughest summer of his career.
There is no doubt that when he said goodbye to the Albiceleste, he meant it. Messi was broken by yet another final defeat, and suffered the added indignity of missing the first penalty of the shootout eventually won by Chile. The loss was not his fault, nevertheless, and nobody did more to take Argentina to within touching distance of their first trophy for 23 years.
But the failure cut deep, and many questioned whether they would ever see the world's greatest player pull on the jersey again. Mercifully, the wait was far shorter than even the most optimistic Argentina fans could have hoped for.
The beard remained from the Copa, and his hair was now bleached blonde. But it was the same magician that took the field at the Estadio Malvinas Argentinas to take on his club team-mate Luis Suarez, another man returning to competitive international action after a far longer absence following his suspension in the 2014 World Cup. Suarez has been in brilliant form for Barcelona in 2016, but he had to take a backseat on Thursday evening.
The night belonged to Messi, as vital as ever to the Albiceleste in a new team taking shape under coach Edgardo Bauza.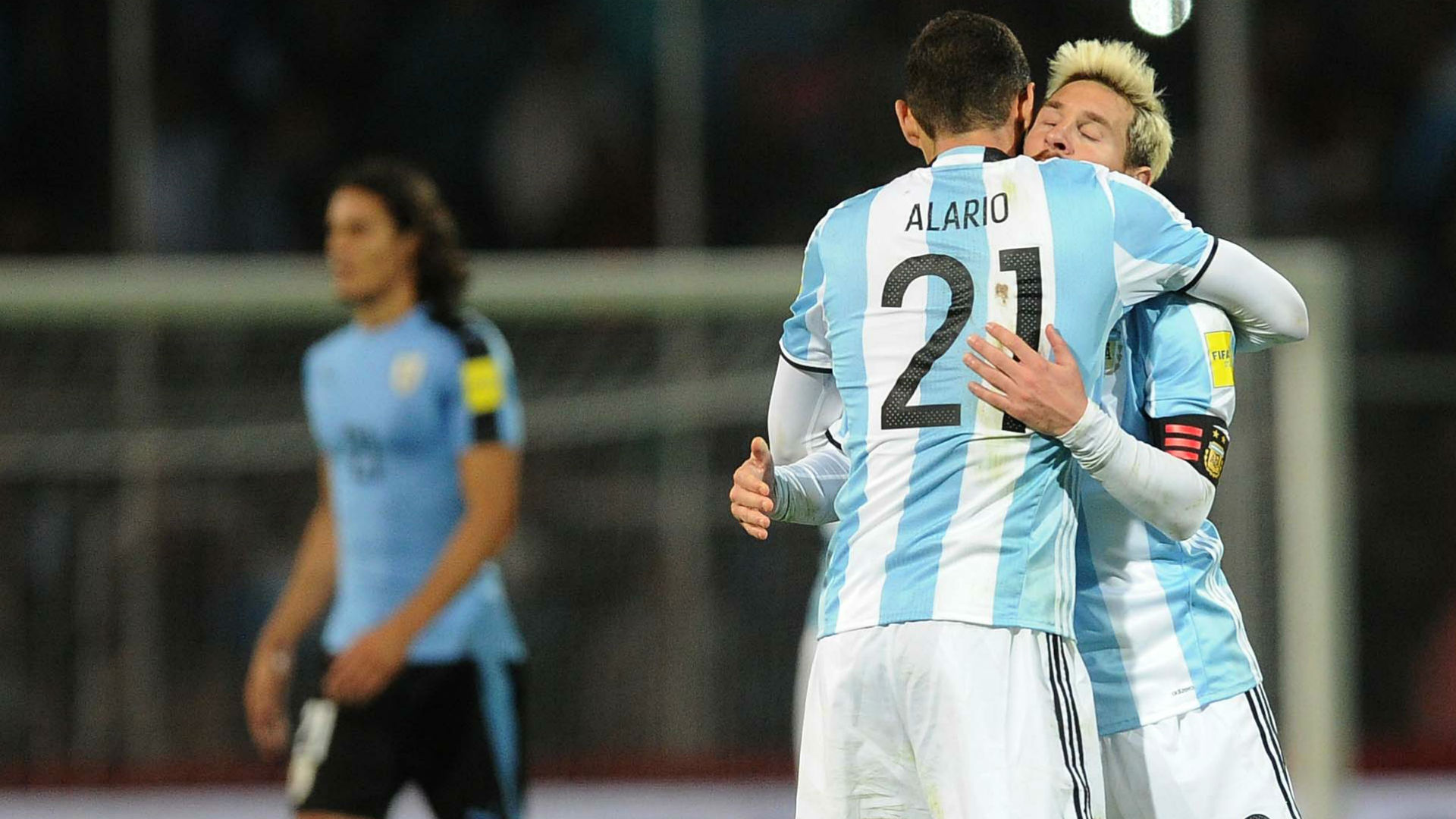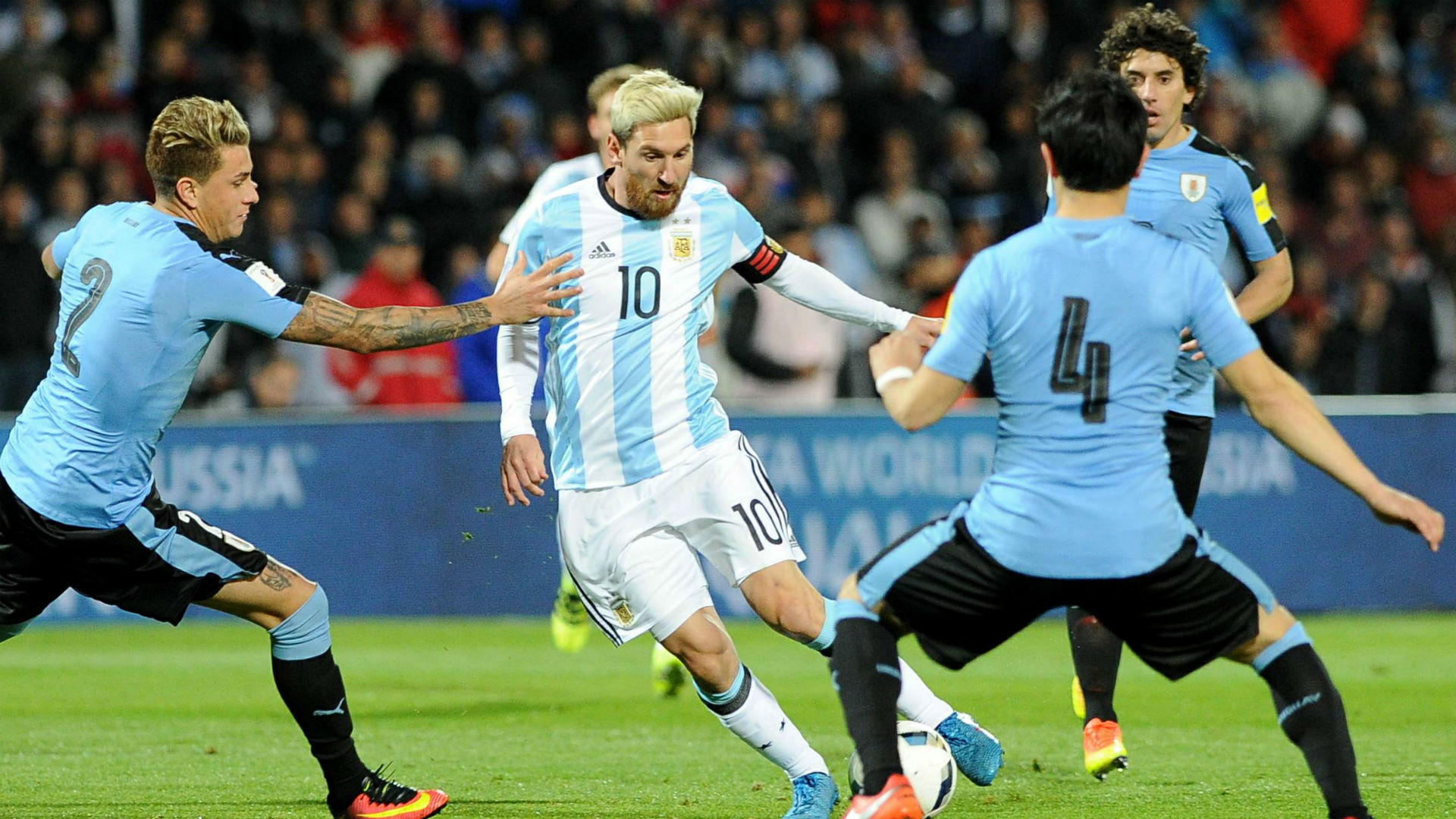 Gerardo Martino's replacement opted for evolution rather than revolution in his debut on the bench. Gone was the faux-Barca 4-3-3 line-up, in favour of a more pragmatic, controlling 4-2-3-1 formation.
Messi dropped slightly further down the field, as part of a creative engine room alongside Paulo Dybala. Angel Di Maria was given license to roam down the left alongside Emanuel Mas, while the returning Pablo Zabaleta added his own bombastic running on the opposite flank and Lucas Pratto was tasked with holding the ball up for the three men behind him. Sergio Aguero and Gonzalo Higuain were the highest-profile absentees, but they were barely missed in a thoroughly professional, albeit slightly workmanlike, 90 minutes.
Argentina dominated the game without ever threatening to humiliate their oldest rivals, who from the start set up to take a draw home across the Rio de la Plata. Pratto's movement and intelligence gave the Celeste problems with some lovely touches, while Dybala stood out brightest in a tense opening half hour.
The Juventus star crashed a fiendish low effort against the post, and Fernando Muslera suffered a heart-stopping moment when the rebound struck his prostrate figure and for a split-second threatened to bounce over the line before eventually going behind. One felt, however, that if anyone was going to break down Uruguay's stern resistance it would be their Captain Fantastic.
Just two minutes before half-time Messi grabbed the ball some 30 metres from Muslera's goal. He shimmied, jinked and jived to throw off three markers, and smashed low in search of the opener. La Pulga may have received a bit of luck with a kind deflection but it was a thoroughly deserved bit of fortune; and anyone who questions his commitment to Argentina, if such a being still exists, need only watch his joy at hitting the net to see how much the shirt means to him.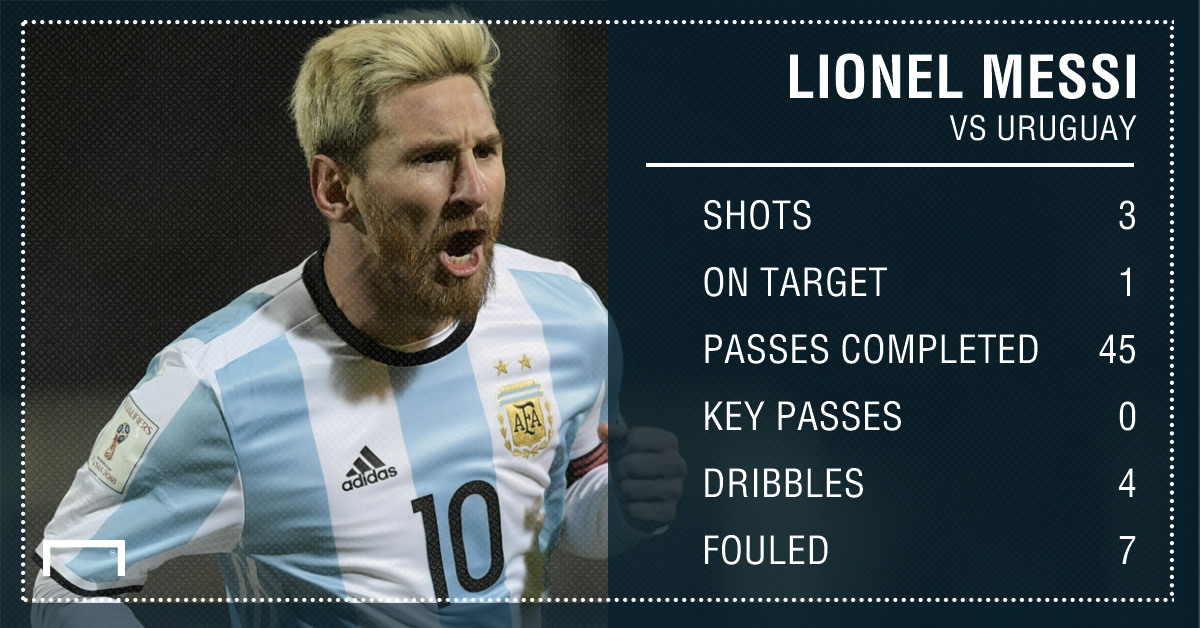 Dybala's harsh expulsion at the end of the first 45 minutes, which left the young star in tears, understandably led Bauza to further tighten up his ranks. The former San Lorenzo and LDU Quito boss is a master of seeing out results, and even with numerical superiority it was hard to see Uruguay ever getting back into the contest as they banged their head continually against brick walls.
Leo went closest to doubling the advantage, again from range, and it took a first-class stop from Muslera to keep him from putting the game beyond any doubt. Indeed, he only really looked ruffled in the dying minutes when an over-exuberant fan gave him a hug, hitting him in the face in the process. Rather more serious was a nasty kick to the midsection from Gaston Ramirez, one of seven times he was fouled over the 90 minutes as Uruguay reverted to a tried and tested formula to try and keep him at least partially under wraps.
No Celeste player, meanwhile, could make the same impact at the other end. Argentina fulfilled their objective in Mendoza, extending their World Cup qualifying winning streak to four consecutive matches and go top of the CONMEBOL standings.
"Argentine football has many problems, but I am not going to give it another one," Messi had said on confirming his return to international football. As usual, his words were brief but brutally honest. He is the heart and soul of the Albiceleste, the undoubted superstar and game-changer even in a squad that boasts some of the richest talent in the world. At a time when institutionally the Argentine FA is in chaos, and the start of the domestic season postponed for a week due to financial wranglings between clubs, Messi is one of the few examples of exemplary professionalism in the nation's football right now.
For almost two months the question of how to replace a star of La Pulga's magnitude gave an entire nation many a sleepless night. Happily, that is a bridge they will not have to cross for some while yet. Retirement be damned: Leo is here to stay, and if his 'comeback' match is any indication he will continue to shine for the Albiceleste for many years to come.